---
My Awards and Gifts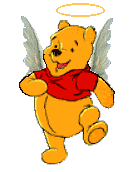 ---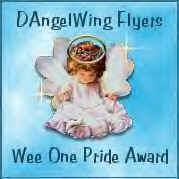 This was my first award and was received

for the week of May 7-13, 2000.

---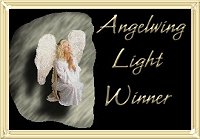 This was my second award

and was received on

June 13, 2000 for advancing

from the light round to

the semi-final rounds.

How exciting!

---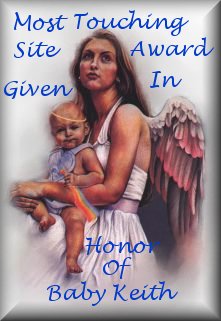 This award was sent to me on 6/15/00

Thank you Mariann, I am deeply touched and honored

to add this award to Baby Keith's site.

---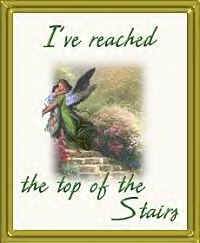 Award received on 6/18/00 for advancing from the Stairs round to the Pearly Gates.

When I designed this website I never dreamed in a million years that

so many people would see it and share in the memories of Baby Keith.

I read the guest log every day and smile

because I know that even in Heaven, my baby is still capturing

the hearts of everyone who gets to know him.

---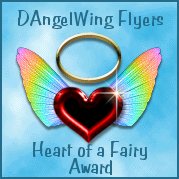 Award received 6/23/00.

Although I am not in the Site Fites any longer,

they sent me this award on 6/23/00 along with an

email from Lady Java stating that I had been nominated

for it the previous week and they still wanted me to have it.

Thank you Lady Java and the rest of the kind people at the Site Fights!!!

---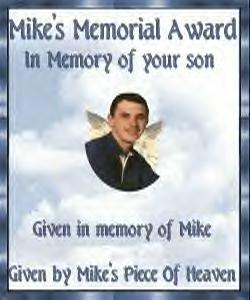 This award was received on 6/24/00.

A girl named Melissa visited Baby Keith's site and asked me to visit her brothers site.

He died in a drunk driving accident when he was 20 years old.

I visited his site and it was quite touching. It really hit home as

I imagine it would for a lot of us who have been there, done that.

If you'd like to visit Mikes site, click on the award above.
---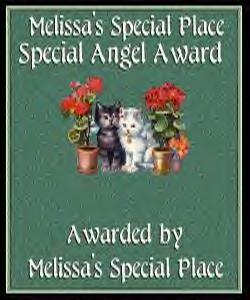 Award received on 6/24/00.

If you'd like to visit Melissa's site, click on the award.

---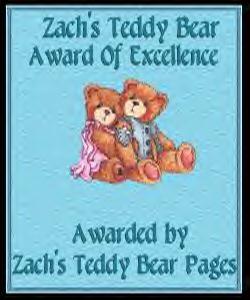 Received 6/24/00

Guess who sent this award? Right! Melissa.

She is too sweet.

Do you think she really liked Baby Keith's site?

Thank You Melissa. These awards are VERY special to me.

---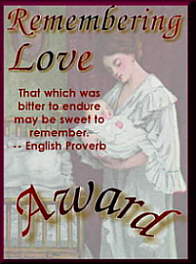 Dear Dena,
A dear friend of mine sent me the URL to your site and I was so moved, I
decided to send you an award, and to make a couple of pictures I hope you
will like. I am also sending you a lake applet of Keith with his cousins.
May God bless you and continue to give you the courage to endure.
Your friend, Dorothy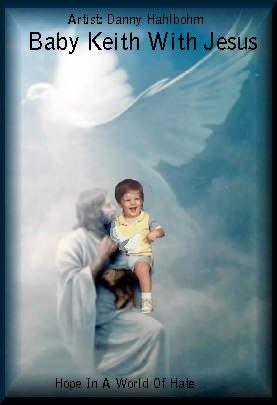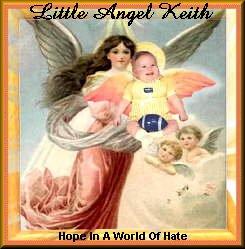 These were received on 6/25/00.

Thank you Dorothy.... from Mommy and Baby Keith.

These are so beautiful!!

---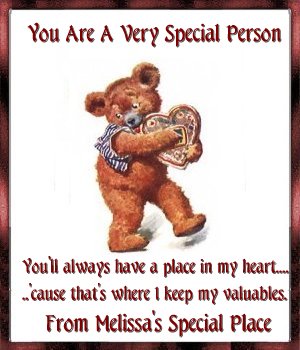 Received 6/26/00 :-)
---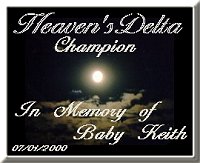 ---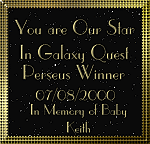 ---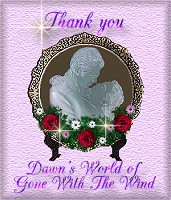 A thank you from Dawn at

7/10/00
---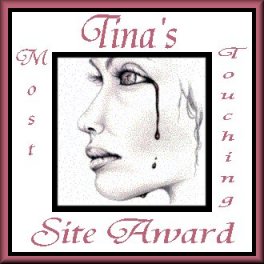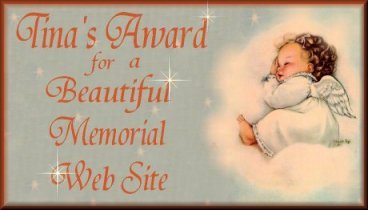 8/23/00

Thank You Tina